Online Dating Abu Dhabi - Exquisite Adult Dates
The richest emirate in the United Arab Emirates is home to some of the world's wealthiest men by far. This is where stylish women and charming gentlemen experience exciting dates in a class of their own - provided you choose the right adult dating service. With TALEJA you experience sizzling dates that are worth a sin.
Single or taken? Whatever! Casual Dating in Abu Dhabi
Do you remember your last fling or your last affair? What was it like? Probably everything ended disappointingly - because you had different ideas than your supposedly suitable partner. The casual dating site TALEJA saves you from such disappointments. In contrast to adult dating apps, we work with date requests. The TALEJA men specify when and where a casual date is to take place.
As a TALEJA Single Lady, you see the date requests of men from your area. Then take the first step and start the chat with your chosen one. Or you can hold back, acti-vate your profile for him and wait for him to start the chat with you. Once he starts chatting with you, you can be sure that he is really interested in you. By the way: Your profile on the TALEJA contact exchange is not visible to anyone. Only for the men for whom you actively activate your profile. The security of your personal data and your anonymity are self-evident in the single communi-ty.
TALEJA in a nutshell - Watch the video now!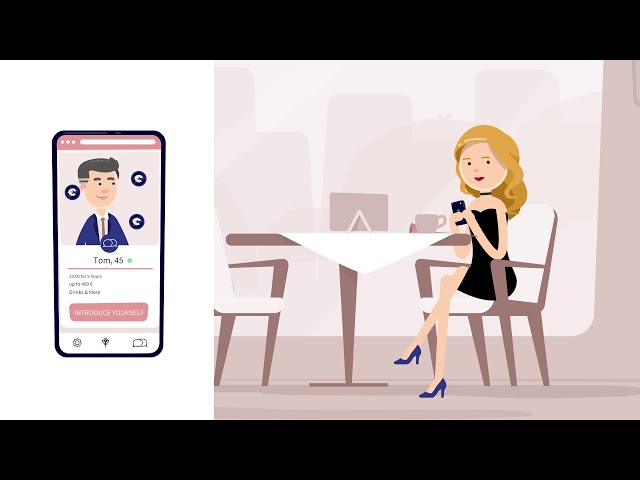 Adult Dating Service in the UAE: Hot Blind Dates
TALEJA helps you to experience hot casual dates in the United Arab Emir-ates. Whether adult dating in Abu Dhabi Saadiyat Island or any other district - through the exclusive Single Exchange, you will meet gorgeous single la-dies and wealthy gentlemen who are looking for exactly the same thing as you: Luxurious dates with that certain something. Arrange the online date of your dreams now.
Why Dates with TALEJA are simply better
Adult dating is (still) something extraordinary for singles and engaged people looking for a fling. But the concept is winning over more and more people - es-pecially hot single women and stylish men who care about their time. Because unlike on a dating app, casual dating makes it clear right from the start what kind of rendezvous both expect. By the man sharing his ideas in the date re-quest, the single lady knows even before the meeting whether his ideas match hers.
Openness, respect, and fun - these are the attributes that characterize a ren-dezvous through the TALEJA online dating site. Dating means a lot of ex-citement. A lot of passion. No pressure. No obligations. The fact that the online date takes place in a completely casual manner means that you can allow your-self to get completely drawn in the moment. This is not the case with the classic partner search via Dating App or Speed Dating. Singles are hindered here by their requirements. However, this is not the case with dating via TALEJA.
Students, classic girls from next door and models from Abu Dhabi
Are you ready for hot online adult dating in Abu Dhabi? Then the online dating website TALEJA is the right place for you. Each of these enchanting single ladies is looking forward to getting to know you. Start the chat and get to know the most beautiful singles online.
Connecting Singles: Discreet hotels for your fling
On the TALEJA online dating site for singles, everything starts with a date re-quest. The first connection between the singles is established in the chat, where they talk and get to know each other better. Then at the rendezvous, they get closer. Casual dating is just so uncomplicated. As a single or a man with style, the best should be just good enough for your ideal partner. Make sure you book a noble hotel room to have the right ambiance for an erotic night out. Abu Dhabi has several 5-star hotels that welcome singles and couples.
If your date takes place in Abu Dhabi Yas Island, the Al Raha Beach Hotel is one of the best hotels in the place. Its 5-star rating reflects the quality of the hotel. Guests from all over the world appreciate the hotel for its luxurious inte-rior, stunning service, and complete comfort. You can dine in one of the hotel's high-end restaurants. Four pools and a beautiful spa provide the perfect place to relax. This hotel offers the ideal setting for unforgettable adult dates and dis-cerning singles.
Get closer: Star restaurants for stylish dating
The single women on TALEJA have high standards. Justifiably so. The beautiful ladies on the casual affair site deserve only the best. For you to be a real gen-tleman and gain the attention of your single companion, reserve a table in one of the best restaurants in Abu Dhabi. Tip: Ask your partner which cuisine she prefers in the chat. In this way, you can already take your single lady's wishes into account when choosing the right restaurant. This will make her appreciate you even more. She will certainly show her appreciation during your night to-gether.
A visit to an Italian restaurant is always the right choice. Probably everyone ap-preciates Italian cuisine. So, if you don't know the taste of your partner and your date takes place in Abu Dhabi Al Maryah Island, make sure you get a table at Roberto's Restaurant and Lounge. The service is fantastic. Every dish is a little piece of art. The food is prepared according to traditional recipes. A piece of Italy in the middle of the United Arab Emirates.
Do you want something special? Dishes that you don't get every day? Then how about a visit to a Brazilian restaurant? The Champs offers upscale Brazilian cuisine. Meat dishes, in particular, are richly served on the menu. In addition to à la carte meals, the Champs regularly offers substantial buffets.
No matter what kind of rendezvous you and your partner decide on. A side trip to an upscale restaurant is a must. Here you break the ice and pave the way for an unforgettable night together.
TALEJA contact exchange: Hip bars
The single community TALEJA provides you with all functions you need to or-ganize a adult date. But what you do with your date is up to you. We suggest that you and your date sit down in a bar for a few hours. Here you can get to know each other better. The atmosphere will be more relaxed with a few drinks. We recommend the Glo Cocktail Bar for your casual date in Abu Dhabi Al Reem Island: Tip: Visit the bar at night. Then the view over the city is excep-tionally beautiful.
Does your single lady appreciate good wine? Then go to a wine bar. La Cava is more elegant and intimate than a bar. Fine wines and corresponding cheese bites are the ingredients that make this place a great spot to have a good time. Spend the night together in style and show your single companion that you are a man with style.
Hot singles, affairs, and romances
Enjoy your time in the United Arab Emirates - with the Single Community TALEJA. Chat with the hottest single ladies and gentlemen in town. Seize the chance for casual dating in the luxury capital. And experience a firework of emotions.