Online Dating Bern: Adult Dates whenever you want
Would you like a breath of fresh air in your casual dating routine? You don't want to click your way through numerous profiles and end up not finding what you're looking for? Are you looking for exciting dates that are fun and erotic? Then the adult dating site TALEJA is the right place for you.
Adult Dates in Bern: Your erotic rendezvous
Online dating services are available like the sand by the sea. However, TALEJA only exists once. The contact exchange is for singles, open-minded couples and people like you! You will experience exciting online dates with TALEJA, which put all other single communities and dating apps in the shade. The secret of our success is the open communication in the casual dating community. The male TALEJA users submit date requests which immediately show what they expect from their rendezvous. Only if a TALEJA lady is interested in the meeting, a contact is established.
If you are a lady and would like to apply for a rendezvous, just click. By applying on a date, you activate your profile for the gentleman behind the request. The gentleman can then decide whether to start the chat with you. Or: You start the chat and thus increase the chances of a blind date with a hot single.
TALEJA in a nutshell - Watch the video now!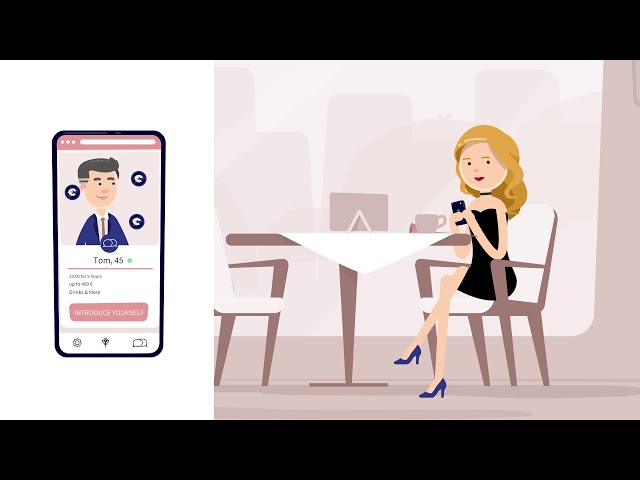 Casual Dating: The Hot Single Community in Switzerland
Enjoy online dating with TALEJA. You will meet open-minded singles and outspoken people who love erotic adventures on our adult dating portal. As a woman, you will enjoy time with a stylish gentleman who will worship your presence. As a man, you get exactly what you want. With TALEJA every adult date is a direct hit!
Adult Dating: Get to know singles online
Surely, you've already had a few online dating experiences. So, was the meeting with your chosen single always a success? Honestly, if not, how many singles are out there? Jumping from one rendezvous to the next without any success can be a very tedious experience. But that's a thing of the past! Casual dating will be fun again. That's why we created the single community TALEJA. Here you can experience the classic partner search. Or you can use the contact exchange to make casual dates.
As a man, you put up a date request via TALEJA, in which you indicate time, place and the type of rendezvous. As a TALEJA Lady, check out the date requests on the TALEJA online dating website. If you are interested in a request, apply by clicking on the date. You and your chosen ideal partner then clarify all details of your sensual rendezvous in the chat. Better than any dating app. And faster than speed dating.
Students, Girls, and Models in Bern
Are you ready for a hot online date in Switzerland? Then you're almost there. Register today for free on the online dating site for singles TALEJA, and get closer to attractive singles and open-minded, engaged people. A date request is the first step. The sparks spread in the chat. And the meeting gets really hot! Experience the casual dating adventure you have always dreamed of.
Ideal hotels for serious singles
Casual dating without an erotic finish is like making soup without salt. Regardless of whether you are meeting an irresistible single lady. Or you want to experience a fling with a devoted man: a chic hotel in Switzerland is the perfect place to end your date to your heart's desire. How about the BELLEVUE PALACE in Bern? The first-class house has everything to offer for an unforgettable night.
Maybe you talk to each other in the chat an agree whether a cheaper hotel for your rendezvous is also suitable. But that doesn't mean that you have to do away with luxury. The Hotel Savoy in Bern is a recommendation for the serious single. The cosy bistro allows you to get up close and personal for the first time during your date. Your experience will be perfect in one of this fine suites.
Suitable restaurants for online dating
Would you like to make your date with your charming ideal partner really beautiful? There are many wonderful restaurants in Bern that are perfect for your engagement. Take advantage of the culinary diversity of the city for your rendezvous.
If you prefer it casual, cosy and at the same time tasty, your place to be is the Wein & Sein in Münstergasse. Here singles and lovers are spoiled with seasonal menus. Did you find out during the chat that your lady was a vegetarian? No issue: The menu is served with and without meat.
Another restaurant recommendation for your date: The cosy Mille Sens in Spitalgasse. International cuisine is served in the modern furnished rooms, which enriches every adult date with culinary delights. In addition to the food, the service also impresses singles and couples.
You should visit Ristorante Ottimo in Belpstrasse if you prefer Italian cuisine for your date. The restaurant offers the finest Italian delicacies at fair prices. From tasty pasta dishes to meat specialities, to a large selection of pizzas, you will find everything here.
Tip: Bars for classy rendezvous
Have a drink together and spend time with attractive singles: There are numerous places in Bern where you can do just that. For example, in the Abflugbar; which is considered by insiders to be the best bar in town. People who have dates come here. Why? In addition to outstanding cocktails and the best atmosphere, the premises are a real eye-catcher. Ideal conditions to break the ice during your rendezvous.
You can also make your sensual date perfect in Lieblings. This small but beautiful bar is located in Gerechtigkeitsgasse. It is cosy, but also full of excitement. The atmosphere here is a bit more fun than in the other bars of the city. There is a lot of playing, laughing and drinking. If your online date companion enjoys a good mood and a little hustle and bustle, then this is the right place for you.
TALEJA dating service: An affair like you want it!
Whether you're searching for the love of your life. Or just want to have fun. TALEJA turns any serious chat into a tingling rendezvous. Experience dates according to your desires. Spend hot nights. Get to know the perfect single. Make the most of your chance on this affair site. Anything is possible!