Online Dates Frankfurt - Sensual adult Dating
Are you looking for a hot date in the Main Metropolis? Then the adult dating site TALEJA is the best choice for you. Here, you will find open-minded and beautiful singles who wish to spend a sensual time together with you.
Online Dating in Frankfurt - For attractive single women like you!
There are many online dating services. However, the dating website Taleja is different from the rest. Here you and your needs are paramount. As an attractive lady, in this singles community you have the opportunity to meet eloquent gentlemen in Frankfurt, who are truly worth your time. You could also find your next lover. Or even your big love. It's very easy.
Male users post their online date requests. You then have the opportunity to look at their date descriptions and profiles. If a man visually appeals to you and his idea of a rendezvous meets your taste, you apply to the casual date with just one click. If he likes you, he will contact you shortly afterwards in the chat room.
TALEJA in a nutshell - Watch the video now!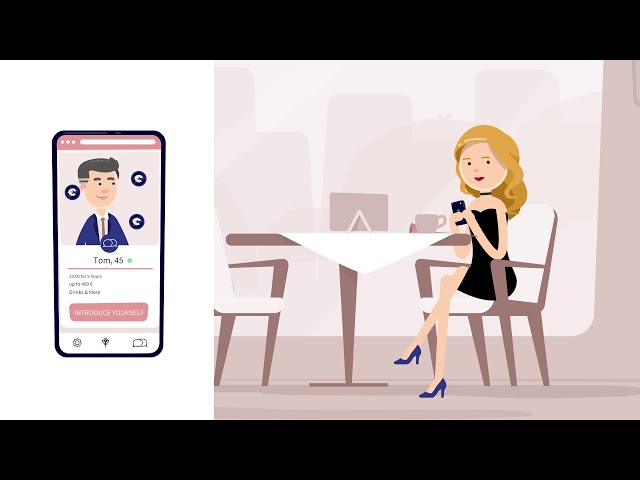 Casual Dating Frankfurt
Discretion is a top priority on the Taleja adult dating website. Your profile will not be visible until you have applied for a date request. Even then, only the man you responded to can see your details. Thus, you always have full control over who sees your profile and pictures. The profiles of those men who have submitted a date request, however, are immediately visible to you.
Online Dates: Adult Dating for Single Ladies
Unlike on other ordinary online dating websites, on Taleja women take the first step. After a man publishes his dating request, it's the ladies who decide whether to apply for the rendezvous or not. Male users can only contact women who are convinced by the date description and the user profile.
As a man, on the other hand, you have the advantage of communicating clearly from the beginning what you expect from your date: dining together, a shopping tour, an erotic encounter – everything is allowed on Taleja. Another plus: You will only receive applications from women who want the same as you do.
Of course, you may also use Taleja for finding a partner. From a date, a real relationship may arise. Try it and become a member of the online dating service for free. Maybe the perfect dream single is already waiting for you!
Students, classic girls from next door and models in Frankfurt
If you're looking for beautiful ladies, check out the members of the Taleja Single Community. The registered women are above average beautiful and sensual. With a proper date-offer, you can win your dream girl for you. A true alternative to normal dating sites.
Stylish Accommodations for Casual Dating
You've found a single woman online that could drive you crazy? Then your date should end with sensual time in sweet intimacy. Here, you may find out which Frankfurt hotels are perfect for an exciting tête-à-tête.
Actually, a classic trade fair hotel, but thanks to its modern decor, the luxurious rooms and the fantastic view, also perfect for a rendezvous. Take your classic girl from next door to the Frankfurt Marriott Hotel and experience an unforgettable time.
Super central, with bright, chic rooms and incredibly comfortable beds, the Hotel the Frankfurt near the Central Station is the perfect place for online dating. Tip: First take a drink at the bar and then retire to your room.
You and your beautiful student want to revel in luxury? Then the Steigenberger Frankfurter Hof is the right address for you. In the stylish suites, you may romp and play together after you have already come closer in the in-house spa. This place is ideal for dates with style!
Forget sneating! Great restaurants for your date
A stylish lady wants to be taken out to dinner. And where would that be better than in the lively Main Metropolis? There's something for every taste. You'll certainly find a restaurant that will make your casual dating partner happy.
The best dates are those you never forget. Your rendezvous will definitely be memorable if you dine at the Kabuki on Kaiserstraße. The Japanese food is prepared directly at the table. The chefs impressively swing their knives. And the taste? Speaks for itself.
You and your chosen one love the French cuisine? And you like it very stylish? In this case, the Français in Bethmannstraße is made for you. Classics of the French haute cuisine are reinterpreted and served to perfection.
For fans of Italian cuisine, the Italian restaurant Trattoria I Siciliani is an absolute must. The small restaurant offers a cozy ambience and Mediterranean flair. The menu features a fine selection of Sicilian dishes prepared according to ancient traditions.
Elegant bars for exciting moments with your single lady
On a date, both sides may be a bit nervous. Break the ice by sipping a cocktail together. And get closer in one of the trendy bars in Frankfurt.
You and your single lady may enjoy delicious drinks and tasty cocktails at fair prices at the Embury Bar in Kirchnerstraße. The bar is particularly popular with whiskey lovers thanks to its rich selection. And the cool atmosphere speaks for itself.
Do you wish to impress your model with a chic bar and top-notch drinks? Then visit The Kinly Bar, which is centrally located in the city of Frankfurt. The interiors are rustic and stylish. The menu includes classics from the cocktail world as well as other tasty creations.
If you and your dating partner not only enjoy delicious drinks, but also want to party together, check out the barhundert in Stiftstraße. The bar impresses with a stylish lighting concept and great parties. You will dance to modern party hits and trendy DJ sets.
Find your Lover!
Forget speed dating. Don't go to yet another single party. No disappointing blind dates anymore. It's much easier: With Taleja you will get to know your dream single very easily online! Among the users are some generous Gentlemen, who are looking forward to chat with you and truly pamper you in real life. And the other singles also will pay you for your time. Look at the date requests and apply for those that suit you perfectly.
Just one click and you release your profile for your chosen one. If you like each other, he will soon start chatting with you. If you don't want to wait, you too can open the chat. All you need is a few Coins that you can buy via your Taleja account. Here you will find your Lover.