Casual dates Hamburg - Exciting adult dating
Discover the world of adult dating with TALEJA. Meet charming and attractive singles from the Hanseatic city and arrange hot dates where fun and sensuality is paramount.
Online dating in Hamburg: Casual dating for ladies
With the online single community boom, many things have changed. Ever more couples meet via digital affair sites. Dating apps are more popular than ever. And yet, many singles are disappointed by the classic online dating services. It's not always clear what the other person wants. During the date you soon realize that you were expecting different things. What a waste of time. That will never happen to you again with Taleja!
On the online dating site, you can immediately see what a man is expecting from the rendezvous. In their date requests, male users indicate what their dream date looks like – and what this rendezvous is worth to them.
TALEJA in a nutshell - Watch the video now!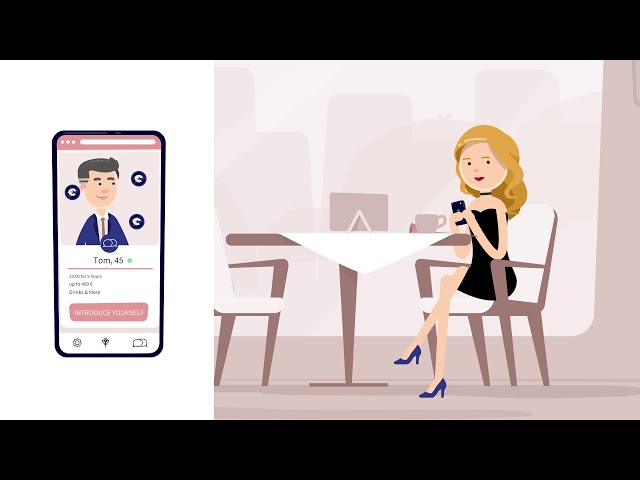 Casual dating Hamburg
If you like a date description you may apply to the rendezvous with just one click. If the man likes your profile, he will promptly open the chat with you. There, you may get to know each other better and discuss the details of your rendezvous. Once you agree, there'll soon be a personal meeting.
Online dates: Pretty single ladies
Taleja is the perfect online dating service for you, if you're a man who knows what he wants, and who wants to easily get to know attractive singles online. After many beautiful single ladies and models have applied for your adult dating request, you may chat with your favorites, flirt and arrange a personal meeting. To open a chat, you only need to purchase a few Coins.
But even for women, the single community is a true alternative to dating apps and other services for connecting singles. You may take a look at the men's date requests and profiles. And only when everything suits you, you apply for an appointment. This means: You don't receive unwanted chat requests and only come into contact with men whose profiles convince you.
By the way: Your personal data is safe with Taleja. All information is encrypted. Furthermore, as a woman, you have the advantage that your profile will only be visible to men whose date requests you are applying for. On Taleja, singles enjoy a safe online experience.
Students, models and classic girls from next door in Hamburg
You want to meet meet attractive singles who are just like you? And who are simply looking for a relaxed rendezvous where fun is paramount? Then post your date request on Taleja for free and spend an unforgettable time with your dream woman.
Hotels for casual dating
You met a beautiful single lady on the Taleja dating website? Then at the end of your sensual date, you surely want to take her to a nice hotel where the erotic part of your rendezvous is to take place. Here are some suggestions on where to spend your stylish night in Hamburg.
Not far from Tierpark Hagenbeck – which you may visit during your date – is the Lindner Park-Hotel Hagenbeck. The 4-star hotel is one of the city's upmarket hotels. The rooms are stylishly decorated with nature motifs. And the service is excellent. Ideal conditions for an unforgettable time.
You and your single lady prefer a modern ambiance and maritime style, as well as a rather casual atmosphere? Then the 25hours Hotel Altes Hafenamt is the perfect choice for you. It is easy-going and yet luxurious. Spend some time at the in-house restaurant and in the bar before retiring to your room.
For young people and the young at heart, the Superbude Hotel & Hostel St. Pauli offers an extraordinary accommodation. This modern hostel is located in the trendy Sternschanzen district, close to the Kiez and the Reeperbahn.
Trendy restaurants for your date
A beautiful lady is always impressed by charming behavior. And by nice invitations. If you want to convince your single lady as a sophisticated gentleman, take her to one of Hamburg's fine restaurants. This will make your adult dating experience perfect.
Nothing beats a good piece of meat. Or fresh fish cooked to perfection. You can get both at the [m]eatery bar + restaurant Hamburg. Centrally located at Stephansplatz, the restaurant is not only easy to reach, it also serves the city's most tender steaks.
Your tastes are different – at least when it comes to food? No problem. At the philipps restaurant, international delicacies, Mediterranean dishes as well as regional specialties are served. A real insider tip, hidden in the Turnerstraße.
Your classic girl from next door certainly does not care much about sneating. Thus, take her to the Apple's Restaurant & Bar. There's not only very good food here. The atmosphere with an open show kitchen speaks for itself. The restaurant is located in the premises of the Park Hyatt Hotel in Bugenhagenstraße.
The best bars for you and your single lady
The Hanseatic city is the perfect place to take your online dating companion to a chic location and invite her for a few drinks. Here are three bar tips that will delight you and your classic girl from next door.
Wow, this bar will meet even the highest demands. The Le Lion - Bar de Paris is one of the most exclusive addresses in the Hamburg bar scene. The walls are decorated with fine brocade. The bartenders are true artists. And admission is granted only after ringing a bell.
Would you like to enjoy a breath-taking view over the city of Hamburg while sipping a drink? Sounds perfect for a casual date. Simply visit the Skyline Bar 20up at the Empire Riverside Hotel Hamburg and enjoy delicious drinks on the 20th floor. Of course, you may also spend the night here.
Good vibrations, delicious drinks and at the same time a single party? Find all that at the SAUSALITOS in the Fischertwiete. The bar shines with a relaxed ambience, good music, great bartenders and brilliantly decorated drinks. Regularly, there are also parties where you can dance and get closer.
The new way of adult dating: Find your Lover
You finally want to meet a man who appreciates you? Who gives you what you deserve? With Taleja you will surely find a Gentleman who will wonderfully pamper you. Disappointing blind dates and speed dating were yesterday. Use the Taleja online dating site instead. Sign up in the Single Community, fill in your profile, upload beautiful photos of yourself and check out the date requests of gentlemen from Hamburg.
As soon as you find a request you like, just click on it and your profile will be unlocked for your future lover. Otherwise, you may start a chat yourself by using Coins! This way, you may flirt with your chosen single, share your ideas and – if you like each other – arrange a rendezvous. Feel the anticipation!