Online Dating Lausanne: Passionate adult dates
The beautiful city of Lausanne and its surroundings are the ideal settings for sensual adventures and secret affairs. Top-class hotels and restaurants await open couples who want to enjoy life. Organize your date with the affair site TALEJA today.
Casual dates in Lausanne: meet singles from Switzerland
Have you ever heard of casual dating? This term describes uncomplicated adult dating where fun and excitement are the primary focus. Such a hot date is usually very exciting. Physical closeness and intimacy play an important role in casual dating. A growing number of singles are getting to know each other online and are looking for fun. But most dating websites and apps are dubious.
For this reason, we have created the online dating website TALEJA. Singles and engaged people who are looking for erotic adult dates meet here. Unlike other dating sites for singles, TALEJA doesn't click through profiles. The men put up date requests in which they describe their desired rendezvous. Then the lady needs to activate a date. The profile of a woman only becomes visible to the man when she accepts a date request and makes contact with him. For female singles, this means, contacts with suitable gentlemen and exciting appointments.
TALEJA in a nutshell - Watch the video now!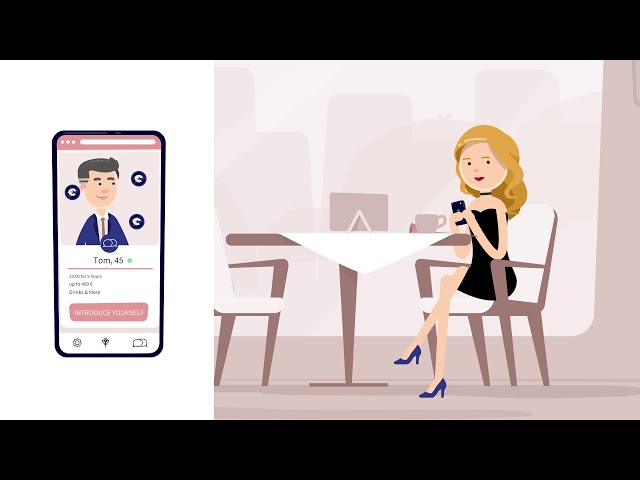 Casual-Dating Lausanne: Swiss single community
With the TALEJA online dating service, which is connecting singles, adult dating becomes more exciting again. Open singles and other people meet here, in search of genuine passion and tingling eroticism. And everyone gets exactly what they want.
TALEJA - How the online dating service works
The TALEJA online dating site makes rendezvous fun again. The secret of its success is the exciting concept of the single community: Men submit online date requests here. Where they describe their desired date. For example, a weekend trip with a charming companion. Or a sensual night with an open lady. Also, the gentlemen determine the time and place for their appointment. As soon as the request is online, it can be viewed by numerous attractive women from the surrounding area.
It' s now up to the TALEJA ladies. If you like a adult date description, just click to activate your own profile for the man behind the request. Now you have to wait until the selected partner starts the chat. Or else, the lady opens the chat herself and shows even more interest in the date. You can now discuss all the details of the meeting – and the adult dating adventure can begin.
Students, girls from next door and models from Lausanne
Are you a stylish gentleman who is willing to worship beautiful single ladies for a rendezvous with you? Then organize your next online date with the casual dating portal TALEJA. Whether you are looking for a partner, an affair or a fling – you will find whatever you are looking for.
Meet singles online - and then take them to a hotel
Was your partner search on the contact exchange TALEJA successful? Then now is the time to search for a suitable hotel for your rendezvous. The meeting should be unforgettable. Where could you experience the highlight of an erotic date better than in a hotel? The Hôtel Royal Savoy is the ideal address for singles with high expectations. The house was built at the beginning of the 20th century and shines in full splendour. An upscale restaurant, a cigar lounge and a beautiful spa makes dating a real experience. The cuddly soft beds in the rooms are waiting to be tried out by you and your ideal partner.
Located at the heart of Lausanne, Hôtel Mirabeau is a popular destination for singles and couples. The hotel does not only captivate by its beautiful location in the city centre, but also by its warm rooms, some of which have a view of the lake. After a hot casual dating night, you and your date in the morning will also be pampered with a delicious breakfast. Who could have imagined that this could come out of a TALEJA chat?
Restaurants for your fling
Speed dating is a thing of the past. With the single exchange on TALEJA, you have the time to really get to know the single man or single lady at your side. And what could be better than a dinner together? Dining in a relaxed atmosphere, chatting animatedly and increasing the anticipation of things to come – there's no better way.
Did you decide to eat vegan in your chat? But you still want it to be convincing and top-class? In this case, Le Valdõ in the Rue de la Pontaise will be your destination. It serves delicious food that suits the lifestyle of singles who like to eat consciously. Important: Reserve a table.
Casual dating is really exciting in the Eat Me Restaurant & Cocktail Lounge on Rue Pépinet. You dine in an opulent lounge atmosphere. The food: Many delicious, fresh and delicious snacks, which you won't get enough of.
Experience the taste of southern Italy and make your rendezvous perfect. At the Amici, located in the Rue Dr César-Roux, you'll get traditional Italian cuisine. In addition to delicious food, the restaurant also serves matching wines and, of course, typical Italian coffee.
Bar tips for finding a partner
It all starts with the contact exchange in the TALEJA chat. However, the climax is still to come. Your Date. And as every single knows, a successful date goes with a drink together. This relaxes the mood and kindles the passion. So how about you and your partner going to the Cocktail Bar LE COMPTOIR in the Rue de la Barre? In a cosy ambience you can indulge in drinks made by master craftsmen. They also have small snacks on the menu.
If you and your ideal date partner want to combine delicious drinks with delicious food, then the Le PiBar in the Rue du Valentin will be the right place for you. Here you can mix exceptional drinks, which harmonize perfectly with the small dishes of the house. But this bar is a pub. It is quite cosy. There are several beers on the menu. Here you will find comfort and a rustic ambience for your date.
From the chat to a casual date
On the online dating site TALEJA everything starts with chatting. Here you flirt with your chosen single lady or your dream man. You talk about the details of your meeting. Then you can start your erotic adventure.