Finest Paid Dating Mayfair: Cultured casual dates
The Mayfair district is located in the centre of London. With the famous shopping mile Bond Street and the Shepherd Market, the district is not only exciting - it is also home to many wealthy singles who want to meet you for a paid date. Start your adult dating with TALEJA now.
Paid Dates with Style
Have you ever experienced a paid date? No? Then here's what it's all about. A paid date is one where the man pays the lady he dates for her time with him. So, paid dating is no different than normal dating. With one small but important difference: the woman is rewarded for her time and effort. In return, the man is allowed to determine the nature of the online date on his own. This does not mean, however, that the lady gets involved in a rendezvous that does not correspond to her expectations at all. On the contrary.
When a casual adult date is arranged via the online dating site for singles TALEJA, both sides know what to expect.The date request makes this possible. The man describes his desired date in a request, specifies the time and place for the meeting and then submits the request for single ladies from his vicinity. Contact is only established when a woman likes his ideas. And the rendezvous can follow.
TALEJA in a nutshell - Watch the video now!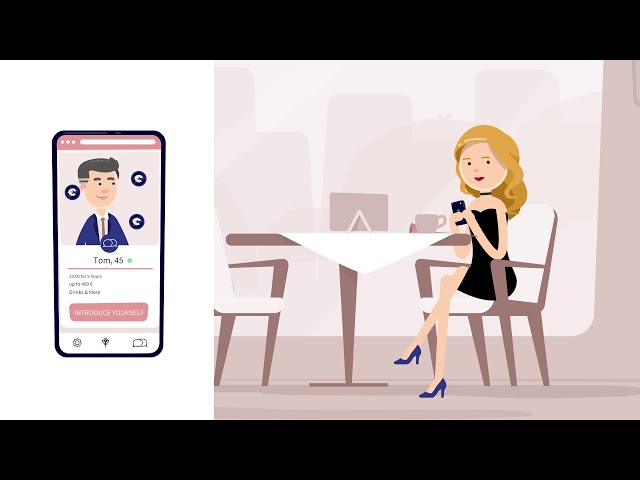 Adult dating as it should be
Generous gentlemen and discerning single ladies live in the upscale Mayfair district. Chat now with the most beautiful women London has to offer and arrange a hot online date in the UK. It's as easy as using a casual dating app. As fast as speed dating.
TALEJA: The contact exchange for Mayfair
We believe: Paid dating should be fun. Why waste your time with boring singles on a casual dating app when you can meet the most attractive people in the UK on a serious adult dating portal? With the online dating website TALEJA, you can experience the rendezvous of your dreams. As a man, you simply publish a date request online and then you just relax and wait. The pretty single ladies will signal you as soon as they are interested in meeting you.
Once contact is established, you can continue in the chat. Here you can talk to your favourite girl about all the details of your casual dating adventure in Mayfair. How you arrange the rendezvous is entirely up to you. Maybe a shopping tour followed by dinner and a hot night in one of the stylish hotels in the district to top it off? We don't see any reason why that shouldn't happen. Experience a fling, start an affair or find true love - all through the single community TALEJA.
Students, classic girls from next door and models in Mayfair
Meet hot singles online and start chatting with one of these beautiful ladies. You can enjoy erotic dates in London through the single exchange TALEJA. The best alternative to adult dating apps and casual affair sites.
Get closer: Hotels for a discreet fling
What starts on the TALEJA contact exchange usually ends with a hot night in a chic hotel. So dear singles and engaged people looking for an adventure: Get a room in one of the beautiful 5-star hotels in Mayfair and experience one of the best nights of your life.
We have a recommendation for you: The May Fair. It is one of the best hotels in this area. Very opulent. Incredibly elegant. Stylish and discreet. Sounds like just the kind of hotel you two singles need? Then reserve a room straight away, dine in the hotel's upscale restaurant, relax in the beautiful spa and experience an erotic adventure in one of May Fair's velvety soft beds, and get closer to each other.
Restaurants for singles and couples
A TALEJA date does not have to be just a night together. You can also make your rendezvous romantic and personal. For example, by going to one of the awesome restaurants in Mayfair. Here are a few recommendations for singles with taste and standards. Tip: Reserve in advance to make your chat a perfect rendezvous.
If you want to give yourself a treat, the Ormer Mayfair Restaurant is a good choice. It serves modern European cuisine, which tastes excellent and looks really good. The Guide Micheln wrote previously about this underrated restaurant in Mayfair. It is still considered a small insider tip. But that will change soon. Because the house was voted the best luxury restaurant in London. What is particularly interesting is that although one gets an outstanding cuisine here, it is really affordable.
Sometimes, it is not supposed to be the chic restaurant in evening dress and tuxedo. If you are two singles who like it uncomplicated but still do not want to miss some good food, visit the Corrigan's Mayfair. This Irish restaurant is in the top class of London's restaurants, but at the same time it is cosy and for open singles a perfect place to enjoy an excellent meal with a fresh beer. The perfect restaurant if you are used to good food but want to dine in a relaxed atmosphere.
Bars where singles feel comfortable
Which bars in Mayfair are the places where life goes haywire? Where can singles and couples feel comfortable? And how is that important for your paid date? It's simple: Every date is only perfect when you have a drink together. For example, at the Connaught Bar, where you can get the best cocktails in the district. Artfully arranged and stylishly presented, the ambience there will simply blow you away.
The Manetta's Bar is a little more dignified, but also stylish. It is celebrated as one of London's best places for couples and new lovers. The drinks menu is wide-ranging. What's particularly good here are the long drinks and cocktails, freshly prepared by trained bartenders. Relax here before you head for your elegant hotel room at a later hour.
TALEJA: Discrete partner search
If you are a discerning single who wants to experience the perfect date, then the online dating service TALEJA connecting singles is the place for you. Also, if you are engaged and looking for a one-night stand, you will find your luck here.
The TALEJA members are open-minded and available for almost everything. Take your chance and get in touch with your ideal partner in the chat. Your paid date is already waiting for you.