Online Dating Vienna - Your sensual adult date
Are you looking for a hot date in Vienna? Then find your perfect rendezvous on the adult dating site TALEJA. Meet hot singles and beautiful students on casual dates in Vienna.
Taleja Single Community: Find your date here
Dating apps and single parties are a thing of the past. Today, the alternative is called casual dating! Because women like you deserve only the best. And you may find that on Taleja. Here, you decide for which dates you would like to apply. Men submit date requests, where they reveal how they imagine their dream rendezvous in Vienna. Maybe you're going to have dinner or a drink together, or are you planning a sensual adventure?
With Taleja Online Dating, you always know in advance what to expect. Thanks to the great concept, the man only sees your profile once you have applied for a rendezvous with him. You only find true gentlemen on the Taleja online dating site.
TALEJA in a nutshell - Watch the video now!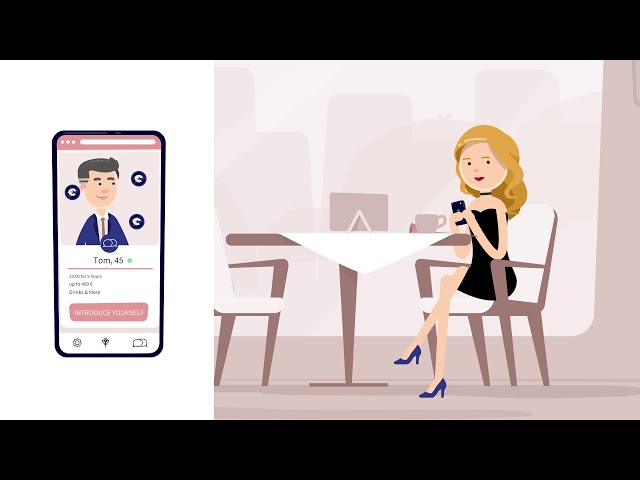 Casual Dating Vienna
Sign up for free today and find dates and singles online that suit your wishes. As a man, you may simply post a rendezvous request online and open the chat with suitable women. You then may look forward to your next dream rendezvous.
Online dates: Hot Single Ladies & students
Forget speed dating, blind dates, and boring sneating. With the Taleja way of connecting singles your rendezvous experience will be fun again. With just one click you apply for the rendezvous requests of exactly those men who interest you, and even get for it. You may find both, your next Gentleman and the love of your life.
You're a man who has clear ideas about an online date, and you're ready to worship sexy single ladies for their time with you? Then the Taleja Single Community is the perfect place for you. Here, the ladies apply for your rendezvous request and you decide with whom you want to spend your dream date.
Become part of the single community Taleja today and discover the possibilities of casual dating in Vienna. Sparkling adventures, unique evenings in restaurants and cocktail bars, exclusive dates or the beginning of a great love story: At Taleja you may find all this and more!
Students, models and classic girls from next door in Vienna
Online dating has never been easier. Simply register for free with Taleja, create your casual date request and receive applications from attractive single ladies and beautiful students from Vienna.
Romantic hotels - ideal for adult dating
You and your date wish to spend the night together? Then you should find a very special place where you can be together. Here you will find a small selection of hotels in Austria's capital city.
Enjoy pure luxury at the Grand Hotel from the 19th century with five restaurants, two of which are on the rooftop. In lavish rooms with great views you may enjoy your night together. You really wish to offer your lady something special? Then book a suite with a private whirlpool. What better way to set the mood for your casual date?
You prefer it simple and comfortable? Then the Star Inn Hotel Vienna Schönbrunn is perhaps just the thing for you. Somewhat outside the city, you'll find time and peace for each other. Furthermore, the casual lobby bar is open 24 hours a day.
The Steigenberger Hotel Herrenhof in the city center is a bit more exclusive. In the spa area with sauna and massage treatments, you may heavenly relax, and then visit the elegant Piano Bar in the evening before returning to a beautiful suite with access to the roof terrace.
Elegant restaurants and fine dining for your date
Your attractive lady companion deserves only the best during your online date. And the more you offer her, the more she will show her thankfulness later on. Find out here which restaurants will make you both perfectly happy.
It's all in the name. In the restaurant Das Schick your dining experience is absolutely modern and stylish – high above the rooftops of Vienna on the 12th floor. On the menu you'll find Austrian cuisine with a touch of Spain.
The Blue Mustard in the center of Vienna offers international gourmet cuisine of the highest quality. Enjoy your culinary journey around the world with an impressive light show and a sparkling bar. In fact, the Blue Mustard deserves its coveted Michelin star.
You would like to present the traditional Viennese cuisine to your lady companion? Reserve a table in the historic restaurant Zum Schwarzen Kameel and be pampered by the cheese and wine sommelier.
Three bars for your dream date with a single lady
After a dinner with your beautiful student, together you could visit a bar. This helps you to feel relaxed and eases the mood before going to your room later.
The Nightfly's American Bar in the heart of the city center is cozy and very inviting. Spend a stylish time in the whiskey and cigar bar and experience a unique ambience with live music.
The Chill-Out Lounge awaits you in the First District. In cozy sofa chairs you may almost feel at home and let go of inhibitions. Enjoy first-class cocktails in a relaxed atmosphere.
Enjoy the romantic mood in the Lamée Rooftop Bar. Experience a fantastic sunset over the rooftops of Vienna and get closer in the cool evening air on the roof terrace with a sensational view.
Find your next lover with Taleja Dating Service
Are you looking for a man who truly appreciates the time he spends with you? A true gentleman or a stylish lover, who fulfils all your wishes? Then the adult dating site Taleja is the right place for you. With this online dating service, you'll only get to know singles online that meet your expectations. The registered men are waiting for your application to their rendezvous request and buy Coins to chat with you. In the requests, you may instantly see what awaits you on your casual date via an online dating website! You like the idea?
Then register now completely free of charge, fill in your user profile and upload attractive photos of yourself. Then, you are ready for the full casual dating experience. Who knows, maybe your generous gentleman will soon show up?