Online dating Zurich - Exciting adult dates
Discover a new way of connecting singles - with TALEJA. On the adult dating site, you'll find open-minded singles from Zurich who are looking for dates with a touch of sensuality.
The Taleja Community for your hot date in Zurich
There are many dating apps and online dating websites. However, none fulfills the needs of women, for whom the fun of flirting and exciting moments is paramount. The solution: the casual dating site Taleja. Here, ladies like you may apply for a specific rendezvous. How does it work? The male users describe their ideas of a dream adult date in their requests.
You may take a look these requests – and at the profiles of the users. If the ideas of the man and his photos appeal to you, with just one click you may unlock your profile for the selected single. It's that easy to apply for an appointment!
TALEJA in a nutshell - Watch the video now!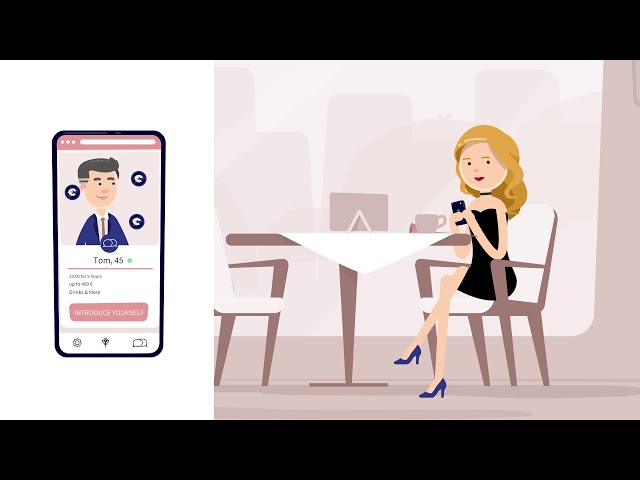 Casual dating Zurich
After you apply, your chosen one will have the opportunity to view your profile and pictures. If he likes what he sees, he will unlock the chat with you. This way, you may personally clarify the details of your date. Casual Dating has never been so easy.
Online dates with open-minded single ladies
You love online dating, but you would like to know right from the start what's going to happen during your date? Then the Taleja casual dating site is the perfect choice for you. All the details of your romantic-sensual date are discussed already before your appointment. Once everything is clarified, you may soon look forward to a personal meeting.
As a woman, with Taleja you not only have the opportunity to find exactly the dates that truly appeal to you. You may also find your next lover with this dating service. Or meet singles who will treat you like a princess. They take you out, invite you for drinks, and show you the sweet sides of life.
If you're a true gentleman and appreciate the presence of a great lady by your side, the Taleja adult dating website is the perfect single community for you. In your date request, you may say what you are looking for: an attractive lady companion for dinner, a partner for a relationship, or a model for an erotic night. Everything is possible!
Students, models and classic girls from next door in Zurich
It can be so easy to meet attractive singles online. With Taleja you may find stunning women in Zurich. Best of all: You decide what the date should look like. Student or single lady – every man that applies wants to fulfill your desire for the perfect rendezvous.
Upscale accommodations for adult dating
You found your perfect online date? You chatted, and got closer, flirted and agreed on a romantic night together in a hotel? Now, all you need is a perfect place to spend the night. And Zurich has some really great locations to offer.
Only the best will do for you and your model? You love a stylish, elegant and luxurious ambiance? Then visit the Hotel Schweizerhof in the center of Zurich at the famous Bahnhofstrasse. Tip: Treat your classic girl from next door first to a shopping trip through the luxury shops in the area and then let your lady pamper you in the hotel.
Friendly, bright and modern, the Hotel Glaernischhof awaits you in the center of the business district. Besides the cozy beds, it's the lavish bathrooms that will make your lover's heart beat faster. At the hotel bar, you may have a drink before enjoying your night together. Or get closer in the in-house sauna.
A romantic evening with champagne and a stunning lady in your room, while enjoying the view of the vibrant city of Zurich. Sounds perfect! And it is possible at the EMA House Hotel Suites. The house features chic rooms with a private kitchen. If you want to enjoy the great city views, make sure to specify it when booking.
Forget sneating: Restaurants for your date
The Zurich restaurant scene is truly renowned. Thus, fine dining is no problem in the beautiful banking metropolis. But where will you start your rendezvous? Here are some restaurant tips for your casual dating experience.
In this restaurant, not only the black and white decor is breath-taking. The creative kitchen can be seen and tasted. Especially friends of cordon-bleu and veal dishes will be perfectly happy here – in Didis Frieden.
Meatless, yet top notch? It is possible. If you and your lady companion are friends of meat-free cuisine, the Restaurant Marktküche is your place to be. Awarded 14 points by Gault Millau, the restaurant offers delicious dishes prepared with fresh local ingredients.
Casual, with culinary highlights: The Lobster and Oyster Bar. The dishes are offered à la carte and taste heavenly. A must for fans of French cuisine.
Elegant bars for you and your single lady
Better than any single party: A night out in a bar, because that's where you and your beautiful student may get to know each other. And maybe even get closer before the night is over.
The view of the city of Zurich is impressive. Especially while sipping premium drinks in a warm, cozy ambience. Enjoy the vista over the city with your classic girl from next door at sunset and unwind together to the light sounds of relaxed music. All this is possible at the CLOUDS.
Your dating companion not only likes good champagne, but also enjoys fresh cocktails? Then take your single lady to the Old Crow Bar in Schwanengasse. Inviting and casual, the perfect location for rounding off the evening.
If your date and you spend the night at the Park Hyatt, stop by the in-house ONYX Bar. Here, you'll find hand-rolled cigars and fresh cocktails, vintage wines, malt whiskeys, high-end vodkas and much more in trendy surroundings.
No blind date, no speed dating: Find a lover with Taleja
Meeting attractive singles online is not that easy. Especially if you're a pretty, stylish lady with certain demands. At Taleja, you may still find them: True gentlemen who worships you for your time – and during the date invite you for drinks, dinner, and maybe even a shopping trip. Sign up for free on the adult dating site, create an engaging profile with pretty photos of yourself and check out the date requests.
You'll certainly find a request by an attractive gentleman you really like. Then don't hesitate and apply directly to the rendezvous. If you don't want to wait for an answer, you may make the first move and start the chat for a few Coins.