Online Dating Berlin - Your serious adult date
Get ready for TALEJA – the online dating site for all those looking for easy adult dating. Find attractive singles from your city and arrange dates that will fulfil all your wishes.
Organize your date in Berlin today
Dating has never been easier! With TALEJA you found an online dating service for singles that meets your expectations. Here, men may decide how an adult date should look like. Women who like the presentation of a date can then apply with just one click. This lays the foundation for an exciting rendezvous.
Boring encounters and sneating were yesterday. At TALEJA you'll exclusively find singles who know what they want. As a woman, you may meet gentlemen who are truly worth your while – and who reward you with a financial bonus for each meeting. As a man, you may find attractive singles, female students and models on the online dating website.
TALEJA in a nutshell - Watch the video now!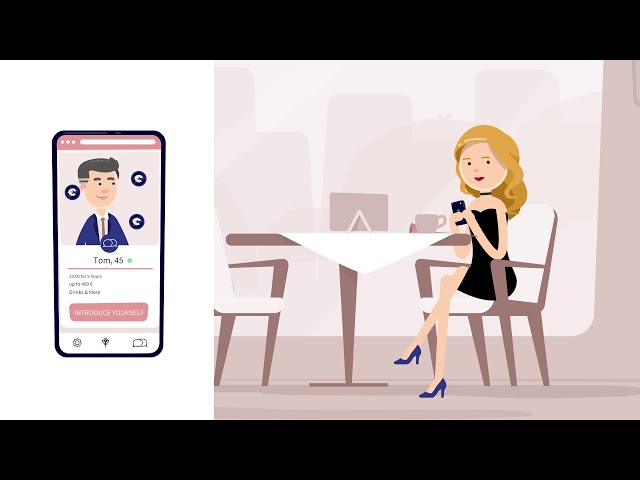 Casual Dating Berlin
Register today – free of charge! As a man, you may then post your dream date online. As a woman, you decide which dates you wish to apply for in Berlin. Sounds good? Then apply with one click and wait for the man to open a chat with you.
Online dates in the German capital: Meet Single Ladies
TALEJA aims at connecting singles who are everyday people: Here you'll meet the classic girl from next door, attractive women with both feet on the ground, but also models and beautiful female students. TALEJA leaves all options open for you.
To quickly and easily organize your dream casual date via TALEJA, you will need to purchase Coins. You may buy them directly via your Taleja account. Of course, all is anonymous and encrypted. You may post your adult date request for Berlin free of charge. Only if you wish to contact a lady in the chat, you need your Coins.
Look forward to applications from gorgeous women in your city. In their profile you will learn more about the ladies and can look at their photos. If you like what you see, simply start a chat. And soon your date will finally happen.
Students, models and classic girls from next door in Berlin
Many fabulous women are registered on TALEJA. They are all looking for exciting casual dating experiences with men who appreciate the company of a pretty lady. We recommend: Be generous and a gentleman.
Ideal hotels for adult dating
A classic rendezvous with Taleja includes exciting moments of sensuality. Therefore, you'll need a place to enjoy your sweet intimacy. Luckily, the city of Berlin offers some very stylish hotels for you and your date partner.
If you and your lady companion prefer a modern and simple style, then you should choose the Fjord Hotel between Kreuzberg and Tierpark. The cozy beds invite you to cuddle, petting and more. However, the comfortable outdoor areas also invite to get closer.
You and your single lady are more into elegance and luxury? Then you should visit the InterContinental Hotel. The hotel is centrally located and not far from the Brandenburger Tor. In the spacious rooms, you and your rendezvous will feel perfectly at ease. You may also truly splurge and choose a chic suite.
Do you want your online date to be unforgettable? Then a lively neighborhood is certainly just the thing for you. At the Kottbusser Tor, you'll find the Hotel Orania. It is one of the top addresses in Berlin Kreuzberg and convinces not only with elegantly furnished rooms, but also with an upscale restaurant and a classy bar.
Trendy and stylish restaurants for your date
Fine dining is often part of casual dating. After you and your lady companion got to know each other in the chat, it's now time to meet in person. In which better location than in a restaurant?
You wish to offer your beautiful female student something very special? Then book a table in the restaurant FACIL in the Potsdamer Strasse. The gourmet restaurant is well-known throughout Germany. After all, it has already been awarded two Michelin stars.
You look for something a little more casual, but still wish to enjoy good food? If your single lady likes the Italian cuisine, then you should visit the Ristorante a Mano. Besides excellent food, the restaurant also offers a romantic ambience.
Located directly next to the S-Bahn station Landsberger Allee, you'll find the stylish gourmet restaurant Skykitchen, which is perfect for blind dates and adult dating appointments: The interiors: impressive. The food: creative, German, typically Berlin-style. And the view: priceless.
Trendy bars for your date with a single lady
Visit a bar together, have a drink, and flirt charmingly: There is hardly a better way to break the ice. Luckily, Berlin has a variety of upscale bars to offer.
Your single lady loves Jazz? And you have a weakness for sophisticated cocktails? The Hat Bar is your place to be! In the moody jazz bar near the Kurfürstendamm, every day jam sessions take place in a casual, cool atmosphere.
For friends of fine wine, the Noble Rot Weinbar in Friedrichshain is the ideal choice. You and your single lady will feel very comfortable here. In a living room atmosphere, you may enjoy delicious wines, accompanied by cold cuts and cheese platters. With candlelight, it offers a very romantic place.
Sipping cocktails with a wonderful view? Choose the Monkey Bar. It is open every day from noon to 2 am – enjoy a drink on the tenth floor and admire the panoramic view of the pulsating city of Berlin. Especially in warmer temperatures, a visit to the roof terrace is a perfect dating tip.
An online dating service for you and your lover
Would you like to find a stylish, charming lover, but classic online dating sites don't look very promising? Then the adult dating service Taleja is the right place for you. Unlike conventional casual dating apps, here you will only meet singles online who are worth it. Registered users wish to spend an excellent time with a charming lady like you – and look forward to receiving your application.
Check out the rendezvous requests. If you like the gentleman's vision, it takes just one click and you've applied. It will not be long before a generous gentleman opens a chat with you. You don't want to wait? Then start a chat yourself. All you need are a few Coins.