Online dating Stuttgart - Your passionate adult date
Are you looking for hot flirts, exciting adventures or true love? On the TALEJA adult dating site you'll find attractive singles from Stuttgart who want the same as you!
Experience your hot date: The new way of adult dating
Attention, pretty women! With Taleja, you've found a way of connecting singles that's different from your regular app. Here you will not be bombarded with requests and you won't have to experience disappointing sneating appointments. It's very different. First, every user sees your profile only when you unlock it for him. Second, you will know immediately what the man is looking for.
This is casual dating: Your chance to meet single men who really value you. And who are willing to invite you not only to dinner and drinks, but are also worthy your time. Who knows? Maybe you'll even meet your next Lover.
TALEJA in a nutshell - Watch the video now!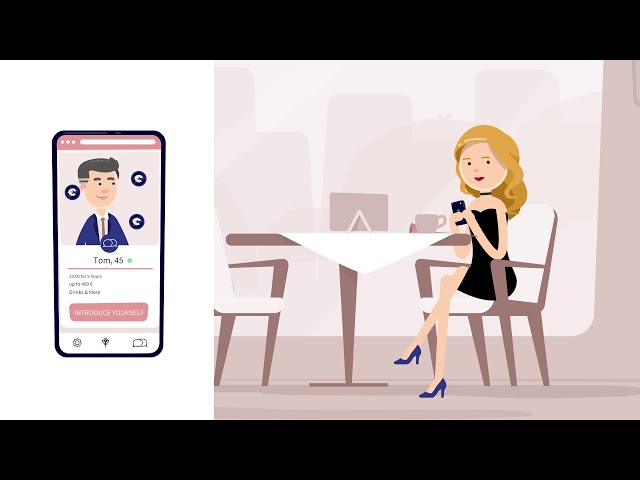 Casual dating Stuttgart
This is how it works: Simply create a free profile on Taleja. Afterwards, you may see the adult date requests of men from your city. If you like the profile, the man's ideas just click on the request and you've applied for the rendezvous. Everything else you may then clarify in the chat.
Online dates: Meet single ladies
There are so many online dating websites. But none is like Taleja. The single community consists mainly of eloquent gentlemen and attractive ladies, who know what they want, are open-minded and enjoy erotic adventures. Here you may find a hot companion for a night, a gentleman or even true love.
The online dating service combines all the advantages of casual dating. As an attractive lady, you have control over who sees your profile. Only men you choose can see your photos.
Blind dates and single parties are not your thing, but you still want to have the opportunity to meet pretty women and experience sensual moments with them? At Taleja, men can decide what their rendezvous should look like. Enter your wishes in the casual date request and receive applications from attractive ladies from Stuttgart.
Students, classic girls from next door and models from Stuttgart
With Taleja it's easy to meet attractive singles online. Post your free adult date request and receive applications from sweet ladies who want to fulfill your wishes.
Hot nights in a hotel: Adult dating Service
With Taleja, you've come across an adult dating community that opens up a new form of online dating service. The registered women are not only beautiful and incredibly sexy, but also ready for erotic adventures. Here, you may find the perfect hotels for romantic nights in Stuttgart.
You're looking forward to a hot casual date where you may flirt with your chosen lady and get closer to her? Then a hotel with spa, indoor pool and jacuzzi is simply perfect for you. And as luck would have it, Le Méridien has all these things to offer. Plus: An elegant French restaurant.
If you want to offer your classic girl from next door something very special, the Waldhotel Stuttgart is a good choice. The spa hotel is located near the Mercedes-Benz Museum and has a nice restaurant. Treat yourself to a delicious dinner before you retire together to your room.
Sneating is not your thing – and certainly not what your beautiful student has in mind. Thus, treat yourselves to a tasty dinner in the international restaurant of the Althoff Hotel am Schlossgarten. Afterwards you may spend sensual hours or even the entire night together in your beautiful room.
Upscale restaurants for your casual date
Meeting a beautiful single lady online is pretty easy with Taleja. And you decide what the rendezvous will be like! Make something of it and take your dream girl out. Here are a few suggestions as to which restaurants in Stuttgart are ideal for a adult dating experience.
French cuisine in Swabia? Find it at the restaurant Zirbelstube, which is located in the Althoff Hotel am Schlossgarten. Excellent dishes, which are characterized by special finesse, are served here. In fact, the restaurant has earned a Michelin star.
Unlike speed dating, your single lady and you have all the time in the world during your Taleja Dates – and may enjoy life together. Together you may visit the restaurant Speisemeisterei, where you dine below impressive chandeliers.
If your classic girl from next door prefers Italian cuisine, reserve a table at the Ristorante Pulcinella on Welfenstraße. The excellent service will convince you. Even more, the delicious, oven-fresh pizza, which is praised by guests from near and far.
Classic bars to get closer to your single woman
The Swabians appreciate a good beer. There is a great variety of pubs in Stuttgart. Your stylish lady companion will be even more grateful to you if you invite her to an elegant bar. There you may break the ice, flirt and make the first move before you later retire to a nice hotel room.
Every rendezvous experience gets better in a jazzy bar! A real insider tip for newly in love and singles is the Schwarz Weiß Bar, where you may enjoy sophisticated mixed drinks and delicious cocktails. The '50s atmosphere will surely delight your beautiful student.
You want to take it easy before you go to your hotel? Then the BAR in Augustenstraße is your address! The menu includes cocktails, whiskeys and rum. Thus, there is something for every taste.
The weather is nice, and the sun is shining? Then off to the Sky Beach Stuttgart, a cool beach bar, where among other things single parties in the sand take place. But also for couples like you, the location is truly perfect. Enjoy the panoramic view or a Sunday brunch in a four-poster bed and get closer.
With Taleja, you'll meet your Lover
You've tried many casual dating services, but you have not met the right man yet? With Taleja, your search for a charming partner could soon come to an end. The single community is full of men who appreciate beautiful women like you. An relationship is easy to find here.
Just look at the adult date requests from Stuttgart. Maybe there's a guy looking for a sweet model like you. You found him? Then quickly apply to your dream man and unlock your profile for him. Alternatively, you may start the chat yourself for a few Coins and introduce yourself to your possible gentleman. Of course, flirting is allowed!